Biologically Inspired Photocatalytically Active Membranes for Water Treatment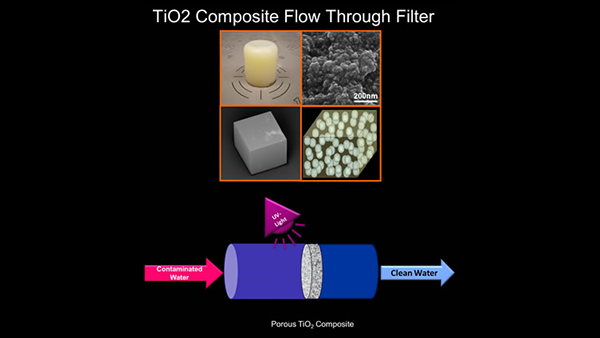 To accommodate the ever-increasing demand for clean drinkable water Advances Oxidation Technologies are being employed to degrade harmful compounds. One such technology uses photooxidative reactions to completely mineralize such compounds to carbon dioxide and water using Titanium dioxide. We are developing Titanium dioxide photocatalytic membranes for water treatment systems based on inspiration from biology.
Structure-property relationships in an impact tolerant bio-composite.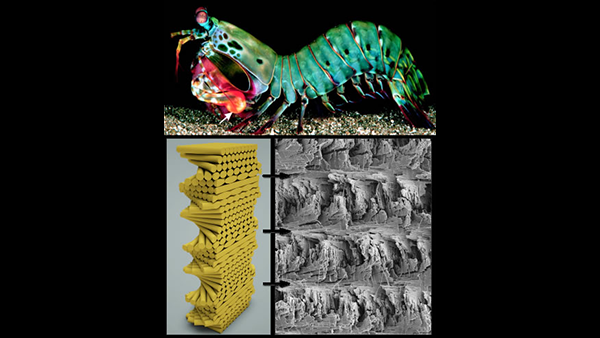 Mantis shrimp utilize a dactyl club to smash open the shells of many impressive oceanic biominerals. We are studying the structural features, such as the helicoidal design seen here in a model and fracture surface, which contribute to the material's ultra high toughness. Using advanced characterization and theory we are gleaning many insights which have lead to applicable improvements in the impact resistance of modern composite materials.
High Performance Abrasion-Resistant Materials: Lessons from Nature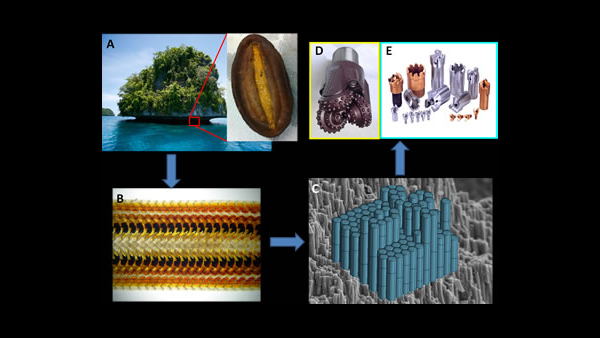 Cryptochiton Stelleri, a common inhabitant of the rocky shores of the temperate Northeastern Pacific(A), graze for algae on hard substrates using a specialized rasping organ called the radula, a conveyor belt-like structure located in the mouth( B). The radular teeth are hard and abrassion resisitant as they rasp away the rock together with algae and make the mushroom-like island (A). The goal of this project is to learn from the...
read more